"Ingersoll conducts a veritable master class with her acting, and vocally her performance is equally as astounding. She dives into each of the songs with an intoxicating blend of mesmerizing vocal prowess and raw emotion, just as Garland herself was able to do."

-Perform Ink
Angela Ingersoll recently completed filming her concert Get Happy: Angela Ingersoll Sings Judy Garland before a live audience for public television, to be broadcast in 2018. Currently, Angela is reprising her star turn as Judy Garland in the play End of the Rainbow, this time at Los Angeles' La Mirada Theatre. Ingersoll won acclaim for her stunning portrayal of Garland in End of the Rainbow at Porchlight Music Theatre Chicago, including a Jeff Award for Outstanding Actress, a Broadway World Award, and "Top Performances" honors from both Chicago Tribune and Chicago Sun-Times.
Other Chicago theatre credits include: How To Succeed in Business... (Hedy LaRue, Jeff Award nomination) Marriott Theatre; Shakespeare's Greatest Hits (Titania/Kate), The Merry Wives of Windsor (Mistress Quickly), Macbeth (Witch), Richard III (Lady Anne), The Comedy of Errors (Luciana) Chicago Shakespeare Theater; The People vs Friar Laurence (Benvolio) The Second City/Steppenwolf Theatre; The Game's Afoot (Daria), The 39 Steps (Woman) Drury Lane Theatre; The Mistress Cycle (Anais Nin, Jeff Award nomination) Apple Tree/ Auditorium Theatre; The Secret Garden (Martha, Jeff Award nomination) Porchlight Music Theatre; and South Pacific (Nellie) Light Opera Works. Regional credits include: Much Ado About Nothing (Beatrice) Notre Dame Shakespeare Festival; The Great Gatsby (Myrtle) Indiana Repertory Theatre; Carousel (Julie) Madison Rep; Disney's Beauty and the Beast (Belle, Ostrander Award), Jekyll and Hyde (Lucy, Ostrander Award), Macbeth (Lady Macbeth, Ostrander Award), Bat Boy: The Musical (Shelley, Ostrander Award), Ragtime (Evelyn Nesbit, Ostrander Award nomination), Man of La Mancha (Aldonza, Ostrander Award nomination), Nine (Carla), Of Mice and Men (Curly's Wife), The Philadelphia Story (Tracy Lord), and The Wizard of Oz (Dorothy) Playhouse on the Square. Comedy: Second City Hollywood and Comedy Central Stage. Television: Chicago PD on NBC.
Angela and husband Michael Ingersoll produce the Artists Lounge Live concert series. Concert credits nationwide include: Judy Garland: Come Rain or Come Shine; I Gotta Right to Sing the Blues: A Salute to Ella, Judy, and Patsy; My Baby Just Cares For Me (opposite Michael Ingersoll); The 12 Dames of Christmas; as well as partnering with Garland's son in the special concert event: Joey Luft and Angela Ingersoll Celebrate Judy Garland.
Angela is the recipient of a Jeff Award, 3 Jeff Award nominations, a Broadway World Award, "Top Performances" honors from Chicago Tribune and Chicago Sun-Times, four Ostrander Awards, and two Ostrander Award nominations. angelaingersoll.com
Little-Girl-Blue-collar beginnings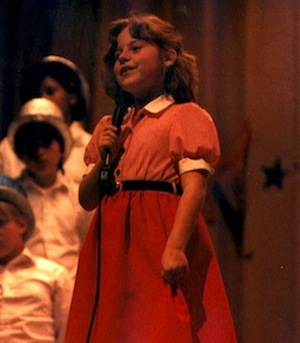 Angie always sang. Her Fairy Godmother, cleverly disguised as a public school music teacher, encouraged her. Angie fell in love with audiences before she was old enough to know how to fear them. She trusted the laughter, the applause, and the silence. She was always a moth, and knew how to find the light.
Angie always knew what she wanted to be, and was simply too naive to entertain doubt. The epiphany struck as she sat rapt in a dark cineplex, nestled in the maw of crimson seat cushions, insulated from the roar of the nearby Indianapolis Motor Speedway. She marveled at the image of a little red headed orphan, dog in tow, searching for home. She recognized that whether the heroine sang of rainbows or tomorrows, the message was the same. Angie's heart whispered, "I can do that." A starlet was born, full of courage, and determined to make people laugh and cry their asses off so they would cease to be so pissed off all the time.
Audiences exclaimed then as they do now, "How did that big voice come out of that little body?!" Pink plastic boom box at her side, Angie practiced with devotion. She rehearsed her dream concert, which was, by her account, to be broadcast to the world from the moon. From where she sat, that couldn't have been much farther away than Carnegie Hall. That's where it said that Judy sang on her favorite record.
Her enthusiasm for emulating the stylings of entertainment greats was ceaseless. Armed with dozens of cable channels and a powerful VCR, she built an arsenal of comic gold. Relatives and neighbor kids alike were accosted with re-enactments of SNL sketches, Madonna videos, and Pee-wee's Playhouse gags. Why aspire to play only her favorite character of Miss Scarlet, when she could clearly recite everyone's lines in Clue? In clear violation of Bedtime, she regularly stayed up late to rendezvous with Mr. Johnny Carson, though her tiny black and white TV obscured the brilliance of his classy rainbow curtain. She sought out all of Natalie Wood's movies, even the bad ones. She secretly popped Smarties as "happy pills" when convincing people she was just like Judy Garland. Her first crush was Bill Murray. The second was reserved for Sidney Poitier. She was, in unequivocal terms, a dork.
Her young hopes were housed in a prematurely blossomed body. "I'm not sure if you're a girl trapped in a woman's body or a woman trapped in a girl's body," puzzled one theatre director. In her quest for mature self expression Angie was often sent home from elementary school for not wearing enough clothes. It wasn't a big deal to run home and quick-change her costume because she was a walker. She didn't ride a bus until later, when attending Performing Arts Programs for junior high and high school. In fact, she graduated from David Letterman's alma mater. Like her famous fellow alumnus, Angela eventually fled her Indiana home for New York, attending Ithaca College to study Opera and Acting. Even scoring a full talent scholarship, school was recockulously expensive, but worth it. The liberal mindset and natural beauty of the Finger Lakes town suited her just fine. This was, after all, where hero Carl Sagan spent his latter years. Honoring his legacy of totally blowing people's minds, Angela experimented with things she had never even heard of. She was grateful for the all-around education, and to be the first in her family to graduate college.
So began the journey of the little ingenue that could.
Further Credits
Further Chicago theatre credits include: Jo and Liv (Olivia de Havilland) Goodman Theatre Playwright's Unit Reading; benefit performances of Pulp (Bing Cherry) About Face Theatre; the original cast of How Can You Run With a Shell On Your Back? (Riley), The History Of Cardenio (reading-Lucinda) Chicago Shakespeare Theater; Rex with composer Sheldon Harnick (Anne Boleyn/Elizabeth) Stages Festival Chicago; High Fidelity (reading-Liz) Route 66 Theatre Company; I Love You, You're Perfect, Now Change (Woman 1) Metropolis; A Midsummer Night's Dream (Titania), Julius Caesar (Portia) A Crew of Patches.
Further regional theatre credits include: The Trip to Bountiful (reading-Jessie Mae) Peninsula Players, The Last Five Years (Cathy) Champ Auditorium; Picnic (Millie), Peter Pan (Wendy), I Love You, You're Perfect, Now Change (Woman 1) Playhouse on the Square; A Man Of No Importance (Adele), Anton in Show Business (Holly), Charlotte's Web (Charlotte), Honk! (Queenie/Grace/Dot) The Circuit Playhouse; Talking With... (Twirler) POTS @ TheWorks; Dead Man Walking (Victim) Cincinnati Opera, Arcadia (Thomasina), Twelfth Night (Olivia), As You Like It (Phebe), and A Midsummer Night's Dream (Hermia) Cincinnati Shakespeare Company; Too Much Light Makes The Baby Go Blind (Ensemble) Kitchen Theatre; and Othello (Desdemona) Expanded Arts NYC.
Further comedy credits include: LA Improv Comedy Fest, Upright Citizens Brigade, iO West, Funny Or Die, College Humor, and Hollywood Improv. She studied improvisation as a member of The Groundlings School in Los Angeles.
Further television credits include: commercials for Kellogg's Corn Flakes, Georgia Boot, and First Tennessee Bank. Voice overs include television, radio, gaming, and internet media including Electronic Arts, Paramount Theme Parks, and Time Warner Cable.
Additional concert appearances include: Belt-Fest Bash at Uptown Underground, etc; Sgt. Pepper's Lonely Hearts Club Band with The Lincoln Squares for Route 66 Theatre Company at Mayne Stage; Dan Holmes Group at Indiana Roof Balloroom, Under The Streetlamp at Croswell Opera House, Steppin' Out with Michael Ingersoll at Paramount Theatre, etc; and Monday Nights New Voices with composers Andrew Lippa, Michael Mahler, and Alan Schmuckler at Chicago Center for the Performing Arts.
Angela holds a Bachelor of Fine Arts in Acting from Ithaca College, Ithaca, NY. Educational credits include: Into The Woods (Little Red), The Imaginary Invalid (Toinette), Sexual Perversity In Chicago (Joan), The Woods (Ruth), Dark Rapture (Julia), as well as staged readings of Saint Joan (Joan), Troilus & Cressida (Cressida), A New Brain (Waitress/Nurse), and Company (Joanne).
Early professional/community credits include: The Crucible (Mary Warren) Indianapolis Civic Theatre; West Side Story in Concert (Maria) Carmel Symphony Orchestra; Grapes Of Wrath (Aggie) Edyvean Repertory Theatre; The Comedy Of Errors (Luciana) Indianapolis Shakespeare in the Park; Totty: Young Eleanor Roosevelt (reading- Eleanor Roosevelt), and And The Tide Shall Cover The Earth (reading-Geneva) Indiana Repertory Theatre. Favorite early educational credits include: The Music Man (Marian), Pippin (Catharine), and Romeo and Juliet (Nurse). As a teenager Angela was awarded Honorable Mentions in both Theatre and Music from the National Foundation for the Advancement of the Arts, a Prelude Award for Acting, was a finalist for the National Shakespeare Competition, and attended the Northwestern University Cherubs Program for Theatre.
Angela enjoys frequenting sporting events, appearing as a National Anthem Soloist for the NBA, NCAA, and Arlington International Racecourse.