"The best Judy Garland Chicago ever saw. Barring the real one.
Ingersoll soared... Simply magnificent... What a performance!"
-Chicago Tribune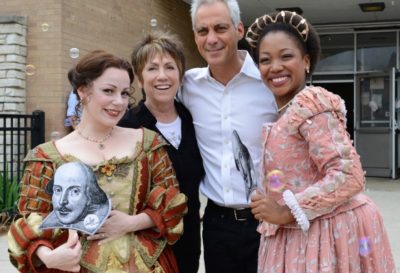 Twas a glorious summer for Shakespeare in the Parks. And best of all, FREE FOR ALL. In the mash-up romantic romp SHAKESPEARE'S GREATEST HITS, Angela starred as Titania Queen of the Fairies (A MIDSUMMER NIGHT'S DREAM) and Kate the Shrew (THE TAMING OF THE SHREW). CST's annual Parks Tour is a cultural gem. Pictured: Actor Angela Ingersoll, CST Artistic Director Barbara Gaines, Chicago Mayor Rahm Emanuel, Actor Tiffany Yvonne Cox.