OCALA MAGAZINE FEATURES ARTISTS LOUNGE LIVE
STARS TAKE THE STAGE
OCALA MAGAZINE: Buzzing with local acts, the Reilly Arts Center has kicked off its inaugural lineup with several amazing performances in just a few short months. In early 2016, the performances gain momentum by bringing in nationally-acclaimed actors, producers, and musicians Michael and Angela Ingersoll.
Known for his roles in Walk The Line and The Beast, as well as playing Nick Massi in the Tony Award-winning smash hit Jersey Boys, Michael Ingersoll is no stranger to superior theatre. His wife Angela has made quite the name for herself, dubbed "irresistible," "sensational," and "simply stunning" by the Chicago Sun-Times. Angela has yielded two Jeff Award nominations, four Ostrander Awards, and two Ostrander Award nominations. Angela's theatre credits include lead roles in The Wizard of Oz, Disney's Beauty and the Beast, The Secret Garden, and Macbeth, just to name a few.
After his run in Jersey Boys, Michael helped found America's favorite retro-rock sensation Under the Streetlamp. Touring both nationally and internationally, this quartet touts two PBS concert specials and is working on a third. These specials are seen in over 100 million homes nationwide.
Likewise, Michael has curated the Artists Lounge Live series, a "dynamic concert series which offers audiences tremendous talent in an intimate light." Artists Lounge Live introduces prime acts from entertainment capitals across America to cities like Ocala.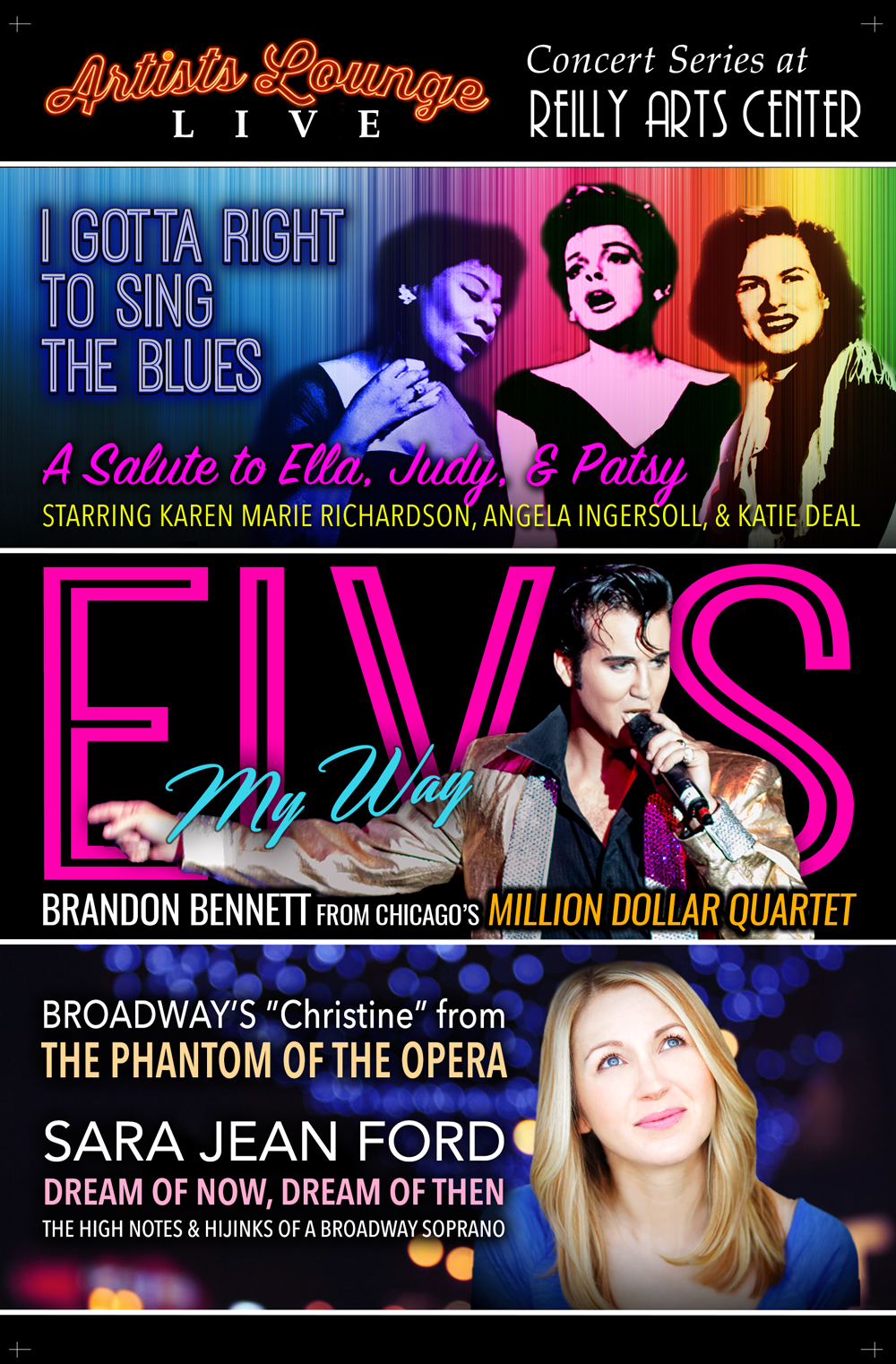 Beginning in February, Artists Lounge Live will bring major performances to Ocala and the Reilly Arts Center. I've Gotta Right To Sing The Blues: A Salute to Ella, Judy, and Patsy; Elvis My Way, and Sara Jean Ford come to the RAC to wow audiences for several spectacular performances.
Having toured and performed in many impressive venues throughout her career, Angela was thrilled with the RAC stating, "I was overcome the second that I walked in to the space. I could hear myself take my first breath. To hear those acoustics - it'a any musician's dream." Her husband Michael added, "I tour 50 to 60 different performing arts center each year and I can tell you, in having been to all of those venues, in all of those cities, it is very rare for a community such as yours to have a state-of-the-art facility in its backyard that is of this standard in quality and beauty."
On Sunday, February 7, I Gotta Right To Sing The Blues takes the stage, starring Karen Marie Richardson, Angela Ingersoll, and Katie Deal. Richardson currently appears as nightclub singer Stella Sinclair in the Off-Broadway phenomenon Sleep No More and brings her powerful voice to Ocala. Deal was nominated for Georgia Country music FemalE of the Year for her original songwriting and outstanding vocal performances. She is what Columbia Free Press calls, "Pure Patsy."
April 3rd, the RAC will have hips swaying when Elvis My Way takes the stage. Lead act Brandon Bennett currently appears as Elvis in Chicago's smash-hit musical Million Dollar Quartet. Bennet has earned numerous accolades to include "Ultimate Elvis Tribute Artist" bestowed by Elvis Presley Enterprises at Graceland.
May 2016 delivers Sara jean Ford, Broadway's Christine from The Phantom of the Opera. "High notes and hijinks abound as the 'soprano with a sense of humor' sings selections from her celebrated stage career, beloved Disney favorites, and classic tunes."
There is a multitude of award-winning performers making their way through the RAC so make sure to save the dates , grab some tickets, and be prepared for greatness. For ticket info, visit Artists Lounge Live or Reilly Arts Center.
Cover Photo: Artists Lounge Live / JPM Photography